VAN KIRBALI VILLAGE SCHOOL CONSTRUCTION/DEVELOPMENT AND PREVENTION OF CHILD ABUSE PROJECT
SEPTEMBER - NOVEMBER 2017
THE PROJECT SUMMARY
The Kırbali Village School project, carried out with the Başkale Directorate of National Education and the project sponsor, was built by World Human Relief in Van/Başkale/ Kırbali Village between September - November 2017. Van/Baskale is the highest residential area in Turkey. It is a geography that is socio-culturally marginalized, has the lowest education rate for girls, and high rates of child marriages and female deaths.
Access to education is very difficult due to the harsh winter conditions. For this reason, the primary aim of this project is to protect the right of more children to receive education by increasing accessibility to education, and it is a step to prevent early marriages with this support given to education.  


With the construction of the school, WHR gave 150 students and school teachers access to: 1 kindergarten, 2 primary school classrooms, and a teacher's house. The construction of the school building was completed in accordance with the criteria of the Ministry of National Education. In addition, the school's interior furniture (such as desks, chairs, and boards) was provided by the Ministry of National Education, while all educational material needs of students (such as a library, books, pens, notebooks, and bags) were provided by WHR and its working partners. In addition to these, awareness-raising studies on the phenomenon of violence against the local people and neglect and abuse studies were carried out for the children.
During the project, the WHR team of 7 people participated in the activities in the region one-on-one. In addition to helping the construction team in the construction of schools, they also carried out 3-hour psychosocial support activities with village children every day. During all this time, there was a cultural exchange as well as a strong bond between the WHR team and the people who were hosted by the villagers in their homes. While the team members set an example for the children and their families on the benefits and necessity of receiving education, the village people also set an educational and instructive example for the team members about the necessities of living in difficult village conditions.
Project Director: Ayten Zara
Project Supporter: Ömer Yazgan
Project Supporter: Dilan Yalım, Esra Zırhlıoğlu, Ezgi Bingül, İrem Akyüz, Sinan Kaan Yerli, Zozan Adsız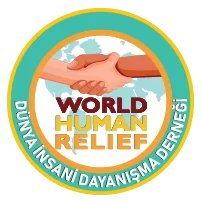 Lets continue to be sun together...
We will achieve this with our faith.