International Trauma Studies Certificate Program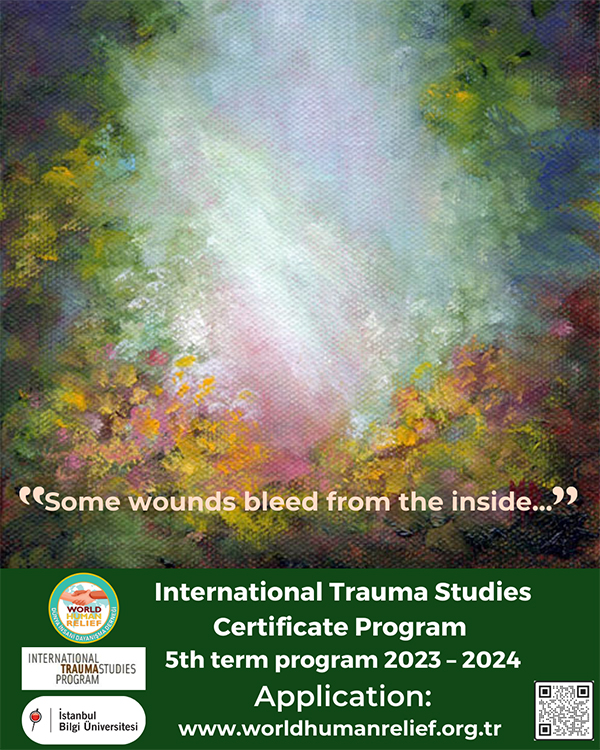 Joint program with International Trauma Studies Program (New York) and Istanbul Bilgi University Trauma and Disaster Studies Applied Mental Health Master's Program under the coordination of World Human Relief
World Human Relief (WHR)

ayten.zara@bilgi.edu.tr

International Trauma Studies Program, New York

Dr. Jack Saul
jacksaul@mac.com

İstanbul Bilgi University

Applied Trauma and Disaster Studies Mental Health Master's Program

https://www.bilgi.edu.tr/tr/akademik/lisansustu/travmaveafet/

Prof. Dr. Tamer Aker
tamer.aker@bilgi.edu.tr
Message From the Director
Dear Participants,
World's past and present is a full of trauma, constantly producing violence and victimization. There are many trauma victims with uncovered wounds. For us to break the extremes that transmit hatred, hostility, and guilt from one generation to the next, we need strengthening to reconsider defeats and losses, mourn, repair, and heal.
But working with people who have suffered from trauma due to their nature and the effects it creates in different developmental periods requires qualified knowledge and skills. On this occasion, this Certificate Program, which we have created in cooperation with the International Trauma Studies Program and Bilgi University, which has been operating in New York since 1997, was established with a trauma-sensitive society and trauma experts who can work effectively with trauma.
Another aim of ours is to establish international Trauma Prevention and Rehabilitation Centers to gather social violence prevention, effective trauma programs, and professional resources under one roof.
I believe that the civilians, trauma experts, who will be trained by this certificate program, and the centers we establish will have very valuable roles in the basic forces such as recognizing, understanding, and explaining traumatic events/problems, as well as helping heal the wounds of the victims and honoring them.
I am very excited and happy that I will contribute to a fair and peaceful life in both my own country and the world.
With solidarity may our path be bright and peace.
Ayten Zara
Program Director

Ayten Zara

Program 2nd Director

Jack Saul

Program 3rd Director

Tamer Aker

Program General Coordinator

Berna Aygün

Program Coordinators

Ezgi Yıldız & Ceren Şavk

Program Communication Assistants

Ayten Cerrah & Armağan Meşhur

Program Secretaries

Ceren Şimşek & Süeda Vardar

Program Education Format: It will be held in an online platform supported by Bilgi University